Obama vows to support Georgia's self-defence capabilities
By Messenger Staff
Tuesday, July 12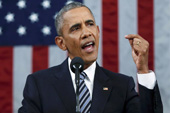 "NATO will support Georgia in strengthening its defence capabilities," U.S. President Barack Obama said at the summarizing press conference after the Warsaw summit.
According to Obama, NATO will try to strengthen its southern flank. It will also take part in Mediterranean operations planned by the EU that are aimed at stopping smugglers.
Washington and NATO pledged support to North African and Central European countries in their efforts to combat terrorism.
The NATO summit lasted for two days, on July 8-9, in the Polish capital city. The next summit will be held in Brussels.
"We're bolstering our efforts on NATO's southern flank. The alliance will increase support to EU naval operations in the Mediterranean to stop arms traffickers and go after criminals that are exploiting desperate migrants," Obama said.
"And we're going to do more to help partners from North Africa to the Middle East and to Georgia to strengthen their own defence capacity," he added.
The White House also published on its website a fact sheet about US and NATO efforts in support of NATO partners, including Georgia, Ukraine, and Moldova.
"The United States strongly supports NATO's cooperation with partners as a means to more effectively share burdens and further our common security goals," the document said.
The statement said the US had enhanced bilateral security assistance to Georgia to increase the defence capacity and NATO interoperability of its forces.
"In FY15, the United States committed an additional $20 million in Foreign Military Financing through the European Reassurance Initiative, bringing Georgia's security assistance up to $30 million. Security assistance to Georgia remains high in FY16, and is projected to remain so in FY17," the White House said.
Prior to the Warsaw Summit, the US Senate also released an unanimous resolution, appealing to NATO to support Georgia.
After the Summit, Georgia was promised that NATO will help Georgia boost its air defence and surveillance capabilities, and that Georgia will be one of the key partners for the alliance in its Black Sea Security project.
It is obvious Georgia still has to walk a long way to gain a Membership Action Plan of NATO and an even longer route to full membership in the alliance.
However, gradual support for Georgia remains more beneficial for the alliance's members currently, rather than the country's fast integration, which might cause complications in the region.