New section of East-West highway opens in Georgia
Monday, July 18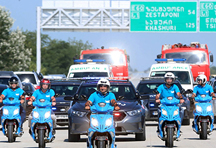 A new section of Georgia's main transport route has opened today, allowing cars to detour the town of Samtredia in the west and drive on a new, modern highway.
The eleventh section of the East-West highway that connects Bashi to Dapnari and detours Samtredia was officially opened last week by high officials from the Georgian Government.
This section of highway is part of a major road that is used by hundreds of cars every day. Commonly known as the East-West Highway or E-60, the road is the main route connecting east to west Georgia, but it also directs motorists from neighbouring Azerbaijan and Russia, and connects to Turkey and Armenia.
"Developing quality infrastructure is very important and developing transit roads will benefit the population. Everyone will be free to use this road – the local population, businessmen, and representatives from our partner and neighbour countries. This will bring more income to our people," said Prime Minister Giorgi Kvirikashvili.
Construction of the eleventh section of the East-West Highway was financed by the Japan International Cooperation Agency (JICA) and the European Investment Bank.
The East-West Highway is deemed the country's main transport route and covers the road from Tbilisi all the way to the other side of the country to the Black Sea resort town Batumi via Poti.
Construction of the highway started in 2012 and to date 92km has already opened and in use.
The highway is being upgraded section by section to ensure the road meets high European road standards. The road renovation is part of the Government's efforts to upgrade state infrastructure in Georgia.
(Agenda.ge)