Message to Putin
By Messenger Staff
Monday, August 8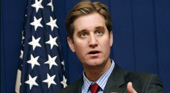 The Former US Deputy Assistant Secretary of State, Matthew Bryza, claims the lack of proper response from the United States (US) and its European allies over the Georgia-Russia war in 2008 directly led Russia's President Vladimir Putin's military invasion of Ukraine.
"The transatlantic community sent a message to President Putin that he had been forgiven the invasion of Georgia and that Russia would not be charged with instigating it," the ex-official stated.
"The lack of proper response from the US and its European allies directly let to Putin's military invasion of Ukraine," he added.
Bryza also told the Voice of America that the strengthening of Russia was triggered by Georgia's military response in August.
"The West was not sufficiently strong, which encouraged Russia's actions. But there was a strong response to the Russian military aggression from Georgia. Russian forces suffered serious losses, which pushed Putin to carry out in-depth military reforms and increase the combat effectiveness of his armed forces," said Bryza.
There was nothing new in the statements made by Bryza as many have already stressed the lack of a proper response to Russia's military invasion in Georgia gave Moscow a green light for its attack of Ukraine.
It can also be said that the response to Russia's actions in Ukraine was not also sufficient to make Russia step back and change its policies of occupation.
Today is the eight anniversary of the Russia-Georgia war, and 20% of Georgia's land still remains occupied by its northern neighbour.
Even the occupation is not stable, as on a daily basis Russia erects new barbed-wires and so-called border signs as a signal of creeping occupation of the territory of a sovereign country.
The action is a sign Russia blatantly ignores all international regulations and behaves as it wishes.
In case of the same policy to Russia, neither Georgia nor Ukraine would be the last, whereas Russia takes steps to broaden its zone of influence.