'Host in Georgia': Georgia's Racha region to welcome new hotel in 2017
Tuesday, August 9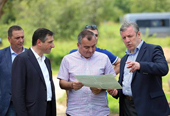 More people are discovering the beauty of Georgia's highland Racha region, and new infrastructure is being built to cater for growing tourist numbers.
In mid-2017, a small modern hotel is expected to open in the Racha region, which will increase the number of beds available for guests and contribute to the development of the local hospitality industry.
About one million GEL (about $424,634 / €383,054*) will be invested in the new 20 room Shaori Hotel, which is currently being built on the shores of Shaori Lake. It is being built within the state program'Host in Georgia' where business owners get support from the Government to fulfil their dreams of opening hotels in Georgia's regional areas.
A local company, Geotechinvest, will be responsible for building the new Shaori Hotel in Racha.
Georgia's Prime Minister Giorgi Kvirikashvili visited the new hotel's construction site. He said he hoped this new hotel would foster tourism development, create a better environment for tourists and boost economic progress in the region.
"Generally speaking, Shaori has large potential and we plan to pay particular attention to development of this tourist zone. This particular hotel is the first-mover in the sense of developing this tourist zone. About one million GEL will be invested here," said Kvirikashvili.
The Georgian leader promised that the Government would help the Racha region to fully utilise its promising potential.
"The profits earned by local entrepreneurs running family-type hotels shall increase. This is crucial since Racha has experienced a major population decline and unless we put in place some purposeful projects, it will be difficult to convince local residents to stay there. We will definitely do this," Kvirikashvili stated.
The 'Host in Georgia' sub-component was part of the 'Produce in Georgia' state program which was introduced in March 2016 to revive the country's production industry and improve Georgia's economic future.
Within the 'Host in Georgia' sub-program, the state will co-finance the business projects of entrepreneurs who want to build a new hotel in any region of Georgia except capital Tbilisi and Black Sea resort town Batumi.
(Agenda.ge)