Question to ex-US official
By Messenger Staff
Tuesday, August 9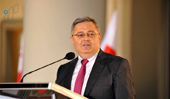 "I ask Mister Matthew Bryza to remind his government of why Georgia's pace to the West has slowed down," Parliament Speaker Davit Usupashvili said in response to Bryza's statement that Georgia's move toward the West has become slow.
Davit Usupashvili said that Georgia has not slowed down its striving towards the West even for a second.
"Unfortunately, both Europe and the United States are busy with their own domestic and regional problems. We have to face this, but it does not mean that we must stop moving to the West," he said.
Former US Deputy Assistant Secretary of State Matthew Bryza said a few days ago that Georgia's aspirations to join NATO and the West have slowed down.
Bryza noted that before the August 2008, no responsible Georgian politician would say Georgia had to think more about relations with Russia than with the West.
Georgia has taken a range of steps to become closer to NATO and the European Union, and its progress has been recognized by both organisations.
Both of them say Georgia is fulfilling all of its obligations, yet the county goes unrewarded.
Georgia has met all the visa-liberalisation demands to gain visa free travel in the EU, but at the last minute, the process was postponed; with regards to NATO, Georgia is constantly praised for its contributions to international peace and security, but is still denied a Membership Action Plan from the alliance.
If Georgia is fulfilling all of its obligations (and praised for doing so) then it is natural that Georgian people become confused and angered by the West's lack of recognition for their country's efforts. Should Georgia's Western path falter, it will only be due to the West's reluctance and failure to recognise the country's achievements.