Pure Georgian honey exported to Korea
Monday, August 15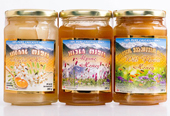 Georgia is making a promising start in the Korean market by promoting its long history of beekeeping and introducing its genuine, traditional honey to Korean consumers.
Georgian honeybees making chestnut and acacia honey varieties have been available in Seoul, the capital of South Korea since January, reported The Korea Times.
Nam Do-hyun, a local importer, said Georgian honey was becoming popular with Koreans because of its unique flavour.
"Compared with other types of honey, Georgian honey is slightly pricey, but considering all the health benefits that genuine honey gives, I believe it is definitely worth paying that much," he told the newspaper.
He also noted that Georgian honey had nearly twice the minerals of other honey products.
"The reality is that most honey products in Korea contain sugar, which means that bees were fed sugar instead of nectar from flowers. It is not natural. You can tell the difference between real honey made naturally and by sugar-fed bees by taste and flavour," he added.
Do-hyun told The Korea Times his importing company planned to introduce pine honey to Korea in the second half of this year.
Georgia's Ambassador to Korea Nikoloz Apkhazava said Georgian honey had many health benefits and Koreans preferred Georgia-made 100 percent pure honey.
"In the medieval Georgian medical book Tsigni Saakimo (Physician's book), honey is mentioned 118 times as an ingredient in preparing certain medicines," the Ambassador said.
"It was used for cooking and as a medicine. Georgians even make unique homemade chacha (a strong alcoholic drink) from honey. There is also a traditional Georgian confection called 'gozinaki,' made of caramelised walnuts fried in honey and served exclusively on New Year's Eve and Christmas," he added.
Georgia is also working hard to increase honey exports to the European Union (EU).
In May EU Ambassador to Georgia Janos Herman said Georgia had improved its beekeeping industry and had brought in strict rules and regulations controlling the quality of honey produced in Georgia.
Thanks to these efforts the EU now recognised that Georgia-made honey was of the highest quality.
"The EU imposes high sanitary requirements on all products of animal origin before importing [into the EU]," said Herman.
"Previously, importing Georgian honey to EU markets was not allowed but today we have achieved very big success in this direction," he said.
A spokesperson from Georgia's Ministry of Agriculture told Agenda.ge Georgia will begin exporting honey to the EU later this year.
(Agenda.ge)