Since conflict in Abkhazia
By Messenger Staff
Monday, August 15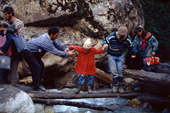 On August 14, Georgia commemorated the 24th anniversary of the Abkhazian War, a war in one of the two breakaway regions of Georgia, which transformed the region into a de-facto independent area and left hundreds of thousands displaced.
The tension started on August 14 1992 and lasted for 403 days.
Over the course of the 1992-93 conflict, tens of thousands of civilians and soldiers lost their lives and about 300,000 people were displaced.
Significant human rights violations were reported on all sides and peaked in the aftermath of the Abkhaz capture of Sokhumi – the main city in the region – on September 27, 1993.
This was followed by a large-scale campaign of ethnic cleansing against the ethnic Georgian population, according to the Organization for Security and Co-operation in Europe (OSCE).
A United Nations Secretary General fact-finding mission reported that numerous and serious human rights violations were committed by both sides during the war.
Between 13,000 and 20,000 ethnic Georgians and approximately 3,000 Abkhaz were reported to be killed, while more than 250,000 Georgians became internally displaced and 2,000 were declared missing.
After the Russia-Georgia war of 2008, Russia recognized Georgia's two breakaway regions of Abkhazia and Tskhinvali (South Ossetia) as independent republics.
Unlike Tskhinvali, which always adheres to the demands of Russia, the Abkhazian de-facto leadership claim they want independence from both Russia and Georgia, hence no referendum over joining Russia will be held in Abkhazia, unlike Tskhinvali.
Abkhazia is recognized as most beautiful, coastal areas of Georgia. However, if you look at the current photos of the region, only poverty and out -dated venues loom.
It is impossible to compare current situation in Georgia's coastal Adjara's main town Batumi to the situation in Abkhazia's capital of Sokhumi.
Developing social connections, people-to-people interactions - even via social networks - would become the difference between Georgia and Abkhazia especially for the younger generations.
However, gradually, the number of the local Georgian and Abkhazian population in the region is decreasing, while Russia is trying to intensify its presence there.
Time plays a crucial role; the reconciliation process must be intensive, and the current Georgian Government must be very active to promote positive people-to-people ties.