Georgia's imports, exports surge 17% in January-July
Tuesday, August 16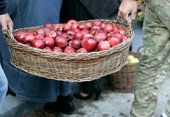 Georgia is increasing its role as an important trade partner for the European Union (EU), the Commonwealth of Independent States (CIS) and other countries.
The National Statistics Office of Georgia (Geostat) published preliminary data showing results of Georgia's external merchandise trade (excluding non-organised trade) between January-July 2016.
The figures showed the volume of Georgia's imports and exports were 17 percent higher in the first seven months of 2016 year-on-year (y/y).
Between January and July, external merchandise trade in Georgia amounted to $6.54 billion, said Geostat.
In this time exports were worth $1.12 billion (12 percent lower), while the value of imported goods reached $5.42 billion (25 percent higher).
Geostat said the negative trade balance was $4.3 billion in January-July 2016 and its share in external trade turnover constituted 66 percent.
(Agenda.ge)