Azerbaijanís Central Bank raises 15M manats at auction
Tuesday, August 16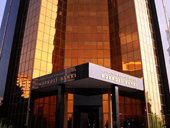 The Central Bank of Azerbaijan (CBA) raised 15 million manats at a deposit auction Aug. 15, said a CBA message posted on its website Aug. 15.
The CBA was ready to receive 50 million manats from the banks through the auction, but local banksí demand was 15 million manats.
The weighted average interest rate on deposit transactions, concluded at the auction, was 9.49 percent.
The funds will be placed for a period of 28 days.
The CBA has attracted more than 400 million manats from local banks since it started holding the deposit auctions.
(Trend.az)