Ex-President addressing voters from Ukraine
By Messenger Staff
Tuesday, August 16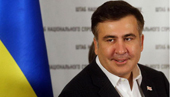 Georgia's former president Mikheil Saakashvili, who is wanted for allegedly committing several crimes in Georgia and now serves as Odessa's Governor in Ukraine, continues to address voters ahead of Georgia's upcoming October 8 parliamentary elections.
This time, the ex-President made an appeal on his official Facebook page, despite the government's reaction to a previous video appeal causing negative responses amongst Georgia's NGOs.
The NGOs said Saakashvili, who is no longer a citizen of Georgia, was deprived of his right by the Georgian constitution to be involved in election campaigning.
Georgia's Central Election Commission has stated as it had no levers to fine those not living in Georgia for such an illegality, those individuals and parties would receive fines which ensured the live video addresses to voters from those having no Georgian or no citizenship.
"I look forward to getting back to my vineyard and each of you in order to resume the building of the country," Saakashvili said in his address to the population of Georgia's eastern Kakheti region, famous for winemaking.
Saakashvili stated Kakheti is a potentially rich region, and poverty must be eliminated and become a thing of the past.
"Dear Kakhetians, my next-door neighbours, Kakheti is one of the main foundations of Georgia. It has huge potential and is an exceptional community. We made the region a centre of tourism – we built so many new facilities with your help, your support, and your participation.
"We were hit by the Russian embargo and that's when I decided to buy a small vineyard in Kvareli in order to bring global leaders and journalists there to show them our wine," says Saakashvili in the address.
Mikheil Saakashvili has already released similar addresses to the populations of Tbilisi, Samegrelo and Adjara.
Many Georgian analysts believe Saakashvili's involvement in the pre-election campaigning would more encourage the loyal and stable voters of the UNM, which consist about 10 percent of Georgian voters, to turn out the elections.
The analysts believe that that section of the voters still see Saakashvili as the key chain of the UNM.
Meanwhile, other analysts believe that such appeals could trigger more negative than positive reactions amongst the Georgian population as Saakashvili refused to challenge the government's deprival of his Georgian citizenship and unlike other former top officials who are now charged or imprisoned in Georgia, hid from the processes.