Direct flights connect Tbilisi and Ashgabat from September
Monday, August 29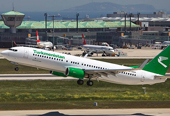 Travelling between Georgia and Turkmenistan will become easier thanks to new direct flights linking the two capital cities from September this year.
As a way to deepen tourism ties with Georgia, representatives from the flag carrier Turkmenistan Airlines and Turkey-based airport operator TAV Georgia met each other yesterday in Tbilisi, Georgia's capital.
As a result of the negotiations it was decided to start direct flights between Georgia's capital Tbilisi and Turkmenistan's capital Ashgabat from September.
Turkmenistan Airlines will perform regular flights on the route Ashgabat-Tbilisi-Ashgabat twice a week via Boeing 737-800 type aircraft.
Launching direct flights with Turkmenistan was also in Georgia's interest and for this purpose a delegation from Georgia visited Ashgabat last month to start negotiations with local aviation authorities.
The talks ended successfully and the two countries signed a Memorandum of Understanding (MoU) which guaranteed launching regular direct flights between Tbilisi and Ashgabat.
Turkmenistan expected to launch the new flights from September 17, however the final decision about the date has not been finalised.
Meanwhile, the MoU also noted the Turkmen airline could launch direct flights between "any points of Georgia and Turkmenistan without any restrictions", announced Georgia's Ministry of Economy.
Georgia also suggested to start working on a new agreement to offer more liberal and simplified aviation regulation to Turkmenistan and renew the previous agreement signed between the countries in 1993.
Meanwhile, infrastructural development is continuing at Tbilisi ShotaRustaveli International Airport to better serve growing passenger numbers.
After installing a new solar energy generation system Tbilisi Airport has just opened a new car park area that innumbers an additional 150 parking positions.
In total, Tbilisi Airport parking lots can house 670 cars.
(Agenda.ge)