TANAP pipeline's construction in line with schedule
Monday, August 29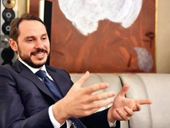 SOCAR President meets Turkey's Minister of Energy and Natural Resources.
Construction of the Trans Anatolian Pipeline (TANAP) continues in line with the schedule, Trend reports.
It was noted during the meeting of the TANAP Consortiumís management, which was dedicated to the results of the first half of 2016 and the upcoming tasks, said a message from Azerbaijanís state oil company SOCAR posted on its website Aug. 25.
SOCAR President Rovnag Abdullayev, who was on a visit to Turkey on Aug. 23-24, participated in the meeting.
The TANAP project envisages the transportation of gas from Azerbaijanís Shah Deniz field to the western borders of Turkey. The gas will be delivered to Turkey in 2018, and after completion of the Trans Adriatic Pipelineís construction, gas will be delivered to Europe in early 2020.
After the meeting, Rovnag Abdullayev met with Turkeyís Minister of Energy and Natural Resources Berat Albayrak. The minister spoke about the status of projects implemented in Turkey and planned activities.
Albayrak expressed satisfaction with the progress of construction within the framework of SOCAR projects in Turkey, in particular, the TANAP, the STAR oil refinery, petrochemical complex Petkim and Petlim container port. He noted that SOCAR is one of the important investors in Turkey; the companyís activities are supported by the countryís government, and this support will be continued in the future.
(Trend.az)