Unresolved conflict not in interests of Tbilisi, Sokhumi and Tskhinvali
By Messenger Staff
Monday, August 29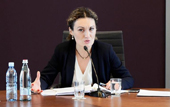 Eight year have passed since the day Russia recognised Georgia's two regions of Abkhazia and Tskhinvali (South Ossetia) as independent republics shortly after the Russia-Georgia August War in 2008.
Georgia's Minister of Reconciliation and Civil Equality, Ketevan Tsikhelashvili, stressed that Russia's attempts to promote international recognition for the territories have failed.
"Almost the entirety of the international community supports Georgia's sovereignty and territorial integrity. Two nations of the Pacific, Vanuatu and Tuvalu, withdrew their recognition of the regions as independent states," Tsikhelashvili said.
The Minister said there was one issue more important than Russia's failure in terms of its recognition policy.
"It's time that we-Georgians, Abkhazians and South Ossetians - should understand that what we have gone through, these wars and conflicts and continued occupation and unresolved confrontations, never served our common interests," Tsikhelashvili stated.
The Minister also said the breakaway republics' euphoria over recognition as independent states has almost vanished amongst mostOssetians and Abkhazians.
"Instead of the euphoria there is fright of losing independent identity and becoming part of Russia. Thus, we should look to a better future, which should be ensured through dialogue, reconciliation and the building of trust. This is the major intention of the current Georgian Government," the Minister added.
Russia and Nicaragua recognised Abkhazia's independence in 2008 in the wake of the Russia-Georgia war. In 2009, Venezuela, Vanuatu, Nauru and Tuvalu took the same step, but after several years Vanuatu and Tuvalu reversed their stance.
It is true that the unresolved conflicts affect the whole country, including Abkhazians and Ossetians.
Many Abkhazians and Ossetians have already guessed - and many will soon realise - that the only thing Russia is interested in is territory, and not the people residing there.
However, by the time Abkhazians and Ossetians realise this, it may be too late.
The Georgian government must also be very cautious in their policies and send relevant and effective messages to the regions without being provocative.