TBC Bank seeks to purchase Bank Republic
Monday, September 12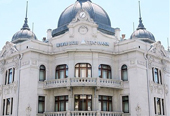 One of Georgia's largest banks, TBC Bank, is about to purchase another large bank and merge its services into its own.
This week the Dow Jones News of the American stock exchange, the NASDAQ Stock Market, announced that TBC Bank confirmed it was in talks to acquire JSC Bank Republic, a member of Societe Generale.
"The company said it has not yet agreed on terms of any potential acquisition agreement," reported the Dow Jones News.
Agenda.ge contacted JSC Bank Republic for comment; however, a bank spokesperson refused to give any details of the merger before an official announcement was made.
Two months ago, Agenda.ge reported a possible deal between Chinese conglomerate Hauling Group and Bank Republic.
In July, Hualing Group announced it had already entered into a preliminary agreement with Societe Generale Group and the European Bank for Reconstruction and Development (EBRD) for the acquisition of Societe Generale's majority stake in Bank Republic, its Georgian subsidiary.
"According to the key transaction terms, Hualing Group would merge Bank Republic with its banking entity Basis Bank to create a universal bank that would expect to be firmly anchored as the number three player in the Georgian market," said Hualing Group in a press release at the time.
After the planned merger, Hualing Group would own controlling stakes in the new combined bank and have the majority on the Supervisory Board.
Now however, it seems TBC Bank was also willing to purchase Bank Republic.
The final outcome of a possible merger has not been officially announced.
(Agenda.ge)