State structures join forces to support Georgia's film industry
Tuesday, September 14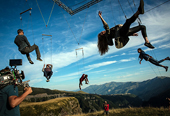 Several of Georgia's state organisations are uniting to support the local film industry and encourage its development.
The Georgian National Film Centre and the Ministry of Culture and Monument Protection of Georgia signed a Memorandum of Cooperation (MoC) that outlined an obligation to support Georgia's flourishing film industry.
With state support, filmmakers and producers avoid bureaucratic processes during film, making the overall filming process easier.
The MoC will support local and foreigner film producers.
As well as Georgia's Culture Ministry and the Georgian National Film Centre, the Ministry of Internal Affairs, Tbilisi City Hall and Ministry of Defence also signed the MoC to pledge their support for Georgia's film industry.
This was not the only initiative of the Government to support the local film industry.
Earlier this year authorities announced the 'Film in Georgia' state program to stimulate the local film sector by offering favourable conditions for local and international film makers.
(Agenda.ge)