Political expert quits Burchuladze party
By Messenger Staff
Tuesday, September 14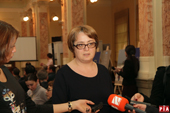 Georgian political analyst Khatuna Lagazidze has quit the political party headed by famous Georgian opera singer Paata Burchuladze.
Lagazidze claims Burchuladze "betrayed his principles" and he is now openly affiliated with the previous ruling United National Movement (UNM) party.
The expert also asked for state support, as she says her family is under threat by some "criminal" members of Burchuladze's political bloc.
Meanwhile, members of Burchuladze's political group says Lagazidze did not appear in the party list and lost her chance to be in Parliament, and this motivated her negative comments.
Burchuladze founded the Georgian Development Fund in November 2015. At the time, he said the aim of the fund was to help locals, as he believed the current Government had failed to resolve the problems of its citizens.
Burchuladze and members of the Fund did not exclude the possibility that the Fund might transform into a political party prior to this year's Parliamentary Elections in October.
The Fund did indeed eventually evolve into a political party named State For People.
In May this year, before the party was established, the executive secretary of the ruling Georgian Dream Democratic Georgia (GDDG) party, Irakli Kobakhidze, said Burchuladze was a "satellite" of the United National Movement (UNM), the party which ran Georgia in 2003-2012.
The statement was condemned by Burchuladze and his party members.
This August, Burchuladze held a special briefing wherein he stated that four political groups would unite and create a new political coalition for the upcoming October 8 Parliamentary Elections under his name and party.
The four uniting parties were the State for People party itself; Girchi - a political unity composed of former members of the previous ruling United National Movement (UNM); New Rights - a non-parliamentary opposition party; and New Georgia - a political party chaired by former UNM member Giorgi Vashadze.
Shortly after the announcement was aired, journalist Merab Metreveli, who was in Burchuladze's State for People, quit the party.
Lagazidze claims Burchuladze's party members were not given information about the merger with ex-UNM members.
She added that creating a coalition with the members of the "bloody UNM member" was unacceptable for her.
Vashadze, who is now in Burchuladze's bloc, says there was no place for everyone in the party list and the only reason why Lagazidze was against her former party now was her losing a chance to appear in the legislative body.
It is interesting why Burchuladze, who deserved much public respect through his philanthropic actions, decided to come into politics, when he had no previous background in public service.
There are some analysts who believe Burchuladze might be a victim of blackmail from the UNM for some previous ruling party members to re-appear in parliament.
There are others, however, who believe he truly wishes to do good things for the country.