Azerbaijan gov't eliminates foreign exchange problem with sale of medicines
Tuesday, September 20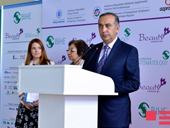 The Azerbaijani government has already eliminated foreign exchange problems with the sale of medicines in the country, Deputy Health Minister, Elsever Aghayev told reporters on Monday.
The Central Bank has been given appropriate instructions, he noted, APA reports.
According to him, certain changes will be made in the rules upon a new document is adopted.
"The rules of medicine registration and regulation of medicine prices will be changed. Currently, the prices of medicine are regulated by the current exchange rate of the Central Bank. Following the relevant changes, the prices will be based on the exchange rate of the US dollar for the day," he added.
Earlier, pharmaceutical companies in Azerbaijan had appealed to the country's deputy prime minister regarding the foreign exchange problem in the medicine market.
(News.Az)