Georgia condemns opening of polling stations in occupied regions
By Messenger Staff
Tuesday, September 20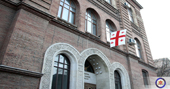 Georgia's Ministry of Foreign Affairs (MFA) has released a special statement wherein it condemned the opening of polling stations in Georgia's two de-facto regions, Abkhazia and Tskhinvali, for the elections of Russia's legislative body.
"The Russian Federation opened 21 illegal polling stations in Georgia's occupied territories for the State Duma Elections on 18 September 2016. Besides, according to the decision by Chairperson of Russia's Central Election Commission, more than 114 thousand people residing in occupied Abkhazia and Tskhinvali Regions were registered as voters in different federal subjects of the Russian Federation," Georgia's MFA said.
The Ministry continued on to say that as early as the year 2000, Moscow started the process of illegal and forced 'passportisation' in Abkhazia and Tskhinvali, and in 2011-2012 made these people illegitimately participate in the Parliamentary and Presidential Elections of the Russian Federation.
"Furthermore, in 2016 they were included in electoral lists of Russia's federal districts and voting for a majoritarian candidate from the respective federal subjects," the Ministry wrote.
The MFA condemned the elections to the Russian State Duma in Georgia's occupied regions as another manifestation of Moscow's annexation policy, "which grossly violates fundamental norms of international law".
"The Russian Federation neglects the essential principles enshrined in the UN Charter, such as the inviolability of internationally recognized borders and non-interference in domestic affairs," the Ministry added.
The MFA called upon the international community to give a proper assessment and react to another illegal action of the Russian Federation in the occupied regions, aimed at violating the sovereignty and territorial integrity of Georgia.
What Russia is doing in Georgia's occupied regions is part of Russia's policies in all those areas which are being occupied by the Federation.
The international community avoids addressing strong measures against the country as against one of world powers, despite the fact that the country neglects all international norms whenever it chooses to do so.
The Government of Georgia should continue carrying out policies that will help the reconciliation process. However, the efforts of the local authorities alone will not be enough to deter Russia's aggressive policies.