Georgia's Prime Minister promises a well-organised grape harvest season
Monday, September 26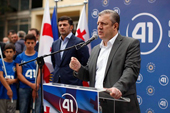 Georgia's Prime Minister Giorgi Kvirikashvili has today traveled to eastern Georgia's Kakheti region – the country's most famous wine-making area.
Kvirikashvili watched the grape harvesting process, and said that as of today, more than 68,000 tonnes of grapes had been processed by 11 wine making companies.
"The Government is fully ready to smoothly harvest and organise all grape harvesting activities this year," the PM told Kakheti's grape growers.
He believed that farmers and wine makers would greatly benefit from this year's harvest.
While in Kakheti, Kvirikashvili also opened a new 25-bed hospital in the town of Dedoplistkaro.
The new facility has modern equipment and met international standards.
"The clinic will have a lab where any kind of test can be carried out," said Georgia's Health Minister David Serkeenko, who accompanied Kvirikashvili to Kakheti.
The new clinic employed medical personnel who previously had to work at the town's old hospital which was located in a building in a state of disrepair.
The Minister said the new hospital was larger, so it needed more staff so that more people will be employed in the future.
The costs for building and equipping the new clinic was fully covered by the state. More than 3.5 million GEL was allocated from the state budget for the project.
Meanwhile, Kvirikashvili presented the ruling Georgian Dream – Democratic Georgia's candidates in Kakheti for the upcoming parliamentary elections, and called on citizens to be more active and participate in the voting process.
(Agenda.ge)