Grape harvest 2016: 71,300 tonnes of grapes picked so far
Tuesday, September 27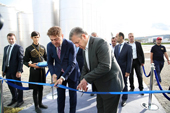 The grape harvest is in full swing in Georgia's eastern Kakheti region where so far this season 11,000 farmers have earned over 62 million GEL by selling 71,300 tonnes of grapes.
The Georgian National Wine Agency said local growers had processed the following grape varieties:
Rkatsiteli - 38,500 tonnes
Saperavi – 28,700 tonnes
Kakhuri Mtsvane – 2,100 tonnes
To date most grapes were processed in Kakheti's Gurjaani municipality – 24,800 tonnes. Followed by:
Kvareli – 17,500 tonnes
Telavi – 16,800 tonnes
Sighnaghi – 6,400 tonnes
Lagodekhi – 2,100 tonnes
Dedoplistskaro – 1,600 tonnes
Akhmeta –1,100 tonnes
Sagarejo – 937 tonnes
Two days ago, Georgian wine company Kakhetian Traditional Winery opened a new grape processing and brandy spirit distillation plant in Velistikhe Village, also in Kakheti region.
The new factory, which is fitted with modern technologies and machines, meets top international standards and has the ability to process 15,000 tonnes of grapes.
Thanks to financial support from the Bank of Georgia and Georgian Government, the Kakhetian Traditional Winery invested 7 million GEL (about $3.2 million/€2.69 million*) to open the new factory.
New plant employed local residents, which motivated farmers to cultivate wine and grow high-quality grapes that they could later sell locally and abroad, said Georgia's Prime Minister Giorgi Kvirikashvili.
He noted thanks to the Government's activities many people were returning to rural areas to open various types of ventures, including enterprises processing wine or livestock products.
[Georgia's] export to Europe is growing, whereas the Russian market has also opened. This is a welcoming fact, since these markets are quite important to our country," Kvirikashvili said.
He also mentioned Georgia's wine exports to China had grown significantly in recent years and Georgia was slowly increasing its exports and being an export-oriented country.
(Agenda.ge)