Georgia-China Business Forum Opens in Tbilisi
By Mariam Chanishvili
Wednesday, August 23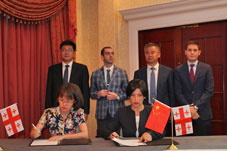 As Georgia and China are intensifying cooperation, Georgian Chamber of Commerce and Industry and China Council for Promotion of International Trade jointly organized and opened Georgia-China business forum on August 21.
The event is hosted by Tbilisi Marriott Hotel.
Forty-four business companies from China's Gansu province are participating in the Georgia-China Business Forum. About 80 businessmen arrived to Georgia from Gansu Province.
The business forum is held in collaboration with the China Council for Promotion of International Trade, local self-government of Gansu Province and business delegation of China. Georgian companies are able to meet Chinese representatives of business sector and discuss future cooperation issues.
The forum was opened by Nato Chikovani, Georgian Trade and Industry Chamber Deputy, and Zhang Wei, Vice Chairman, China Council for the Promotion of International Trade.
Representatives of People's Republic of China, Georgian Railway and Gansu province self-government delivered speeches at the Forum.
Established in May 1952, China Council for the Promotion of International Trade (CCPIT), is the most important and the largest institution for the promotion of foreign trade in China. The aims of the CCPIT are to operate and promote foreign trade, to use foreign investment, to introduce advanced foreign technologies, to conduct activities of Sino-foreign economic and technological cooperation in various forms, to promote the development of economic and trade relations between China and other countries and regions around the world, and to promote the mutual understanding and friendship between China and peoples and economic and trade circles of all nations around the world.
A memorandum of cooperation will be signed between the Trade and Industry Chamber of Georgia and the Gansu Committee of the China Council for the Promotion of International Trade.
"Forums will first of all improve the communication and exchange of information between business, governmental, international sectors and the audience, will form the background for future partnerships between them and with all these will positively impact on general business climate in the country, more successful individual or joint business projects will be implemented as a result," is stated on businessgeorgia.ge.
Last summer, Georgia-China business forum was held in Nanchang, China. China became one of Georgia's largest partners in terms of investment, trade and joint projects.