World Bank supports Georgia's private sector
By Mariam Chanishvili
Monday, August 28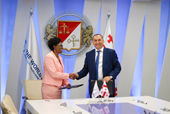 The World Bank intensifies its support to private sector in Georgia. This July the World Bank Board of Executive Directors approved of USD 50 million for the Second Programmatic Private Sector Competitiveness Development Policy Operation.
The Program Objective is to increase private sector competitiveness through second generation business environment reforms, establishing favourable conditions for diversification of financial sector and increasing capacity of firms to innovate and to export.
The Georgian government is committed to develop a competitive economy in which the private sector can effectively leverage the trade and investment opportunities that come from the country's geography and close relationships with the European Union and Asia.
"This operation supports Georgia in its ambition to become a dynamic emerging market that is increasingly integrated into global value chains. For this next phase of economic development, the government is focusing on strengthening the private sector's competitiveness," says the World Bank statement.
The agreement was signed by First vice Premier Dimitri Kumsishvili and Mercy Tembon, World Bank's Regional Director for the South Caucasus.
"I am glad that the World Bank continues to support the competitiveness and business environment of our country, which will contribute to the growth and stable development of the country, in order to improve living standards and encourage different sectors of economy," said Dimitri Kumsishvili.
Head of International Relations Department at Georgia's Innovation and Technology Agency, Mariam Lashkhi said she is fully convinced by the World Bank goals, which are elimination of extreme poverty and boosting of shared prosperity.
"The Government has to jointly work with the World Bank team, in order to elaborate the right projects based on the needs of their citizens," Lashkhi stated.
"In our century Innovation and Technologyare the key factors to fast economic growth," said Lashkhi adding that the World Bank has significant expertise in this and its support is important to the Government of Georgia in the process of " boosting the knowledge-based economy."
The World Bank has been supporting Georgia's Government and private sector to advance innovation-led growth of key economic sectors since 2013. Policy advice, knowledge transfer, and capacity building efforts led to the creation of Georgia's Innovation and Technology Agency (GITA). The Agency's task is to ensure innovation and technological development based on economic welfare and is subordinate to the Government and Ministry of Economy and Sustainable Development.