USD 20 million assistance to Georgia
By Mariam Chanishvili
Monday, September 25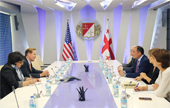 The Ministry of Finance of Georgia announced that the United States will assist Georgia with an additional USD 20 million.
The Minister of Finance of Georgia, Dimitri Kumsishvili and the United States Agency for International Development (USAID) Mission Director, Douglas Ball discussed the changes in the existing grant agreement on September 14.
The renewed agreements include priority directions for Georgia such as Inclusive and Sustainable Economic Growth,Democratic Control and Balance and Accountability Management and Growing, Stable, Integrated and Healthy Society.
Dimitri Kumsishvili thanked the US Government and USAID. According to him, Georgia has received from the US Government and USAID more than USD 5.5 billion, in total, since 1992.
Prior to his assignment to Georgia, Ball served as the USAID Mission Director in Iraq, one of the most politically important and complex U.S. foreign assistance programs in the Middle East.
Several activities have already been planned, which will support introduction of universal business standards in different sectors of the Georgian economy.