WB research on economic developing in Georgia
By Mariam Chanishvili
Monday, September 25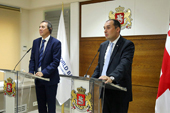 This year Georgia and the World Bank are celebrating 25 years of partnership.
On September 15, Georgia's Finance Minister Dimitri Kumsishvili hosted the Vice President of the World Bank's Europe and Central Asia region, Cyril Mullee.
Muller stated that Georgia had been implementing the economic reforms and added it could become a high income country if strong economic growth continues. Furthermore, he announced a new research is underway that would reveal what hinders Georgia's economic growth.
"Now the World Bank is conducting a research to find out what hampers Georgia's economic growth. Based on this research we will reveal what is the economic growth model in Georgia. I want to remind first Deputy Prime Minister Dimitri Kumsishvili that management of public finances is very important and it should be in focus," Muller stated.
Georgia became a member of the World Bank on August 7, 1992. Since then, the World Bank has financed 69 projects in different sectors. The sum of concessional credits and loans amounted has been over USD 2.7 billion. The current portfolio includes 12 ongoing investment projects and development policy operations amounting to USD 789 million.