Average Monthly Salary in Georgia at1,069 GEL
Monday, December 18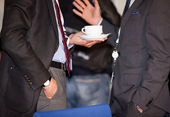 (TBILISI) – An average monthly salary in Georgia reached 1,069.10 GEL ($418.40) in the third quarter (Q3) of 2017, according to the data published by the nation's National Statistics Office (Geostat).
The three highest-paying occupations during the period included financial advisor at 1,405 GEL ($553.15), mining and quarrying - 1,310.20 GEL ($515.83) and production and distribution of electricity, gas, and water production at 1,295.00 GEL ($509.84).
According to the stats men earned 485 GEL ($190.94) more than women for the same work. On average, women earned 809.40 GEL ($316.79) per month, while male workers earned 1,293.80 GEL ($506.38), according to Geostat.
A recent by the United Nations Development Program (UNDP) and Union Sapari revealed that more than 40 percent of women in Georgia are economically inactive, while women in the workforce receive salaries that are 35 percent smaller than those of men.
UNDP Deputy Resident Representative Shombi Sharp sees this as a paradox"Georgian women are often more qualified than men". By not utilizing their skills, the Georgian economy is suffering and not meeting its potential.
The minimum subsistence level for a working age male in November 2017 was 175.70 GEL ($68.77), said Geostat in its latest data also published today.
The minimum subsistence level is calculated based on the minimum cost of items in the food basket, defined by Georgian law since 2004. The indicator does not include monthly mortgage and rental costs, or utility bills.
For the average consumer, the minimum subsistence level was 155.70 GEL ($61.30) in November, while an average family needed at least 294.80 GEL ($116.06) to survive.
Food and non-alcoholic beverages increased 0.8 percent.
The prices were higher for the following subgroups:
Vegetables (6.5 percent)
Sugar, jam, honey, chocolate and confectionery (1.4 percent)
Milk, cheese and eggs (1.2 percent)
Cooking oils and fats (0.7 percent)
(agenda.ge)