Lithuanian Prime Minister Reiterates Lithuania's Support to Georgia's EU Aspirations
By Vladimer Napetvaridze
Wednesday, January 31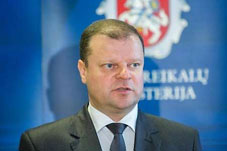 Prime Minister of Lithuania, Saulius Skvernelis visited Georgia on January 28. In the framework of the official visit, he met with the President, Prime Minister and Speaker of the Parliament of Georgia.
Important issues concerning both countries were discussed. In a meeting with President Giorgi Margvelashvili Skvernelis covered several important topics regarding regional security, current situation in Georgia's occupied territories, Russian policy towards Georgia and prospects on Georgia's European and Euro-Atlantic integration. Special attention was paid to cooperation between Georgia and Lithuania within EU and NATO framework, and to Lithuania's role to support Georgia's aspirations to join EU and NATO.
At the meeting, Parliament Speaker Irakli Kobakhidze highlighted that 2018 is especially important for both countries as the two states are celebrating the 100th anniversary of independence.
"The visit of Lithuanian Prime Minister is symbolic and it confirms that historical bilateral relations are developing dynamically," said Kobakhidze.
The Parliament Speaker also said that the Parliament of Georgia wants to make significant contribution to further deepening friendly and partner relations with Lithuania and intends to activate the format of friendship groups between the Parliaments of the two countries. The Prime Minister of the Republic of Lithuania once again condemned the Russian occupation and highlighted strong historical and cultural links between Georgia and Lithuania, which is based on positive relations between the Georgian and Lithuanian people. According to Skvernelis, Lithuania is a strong and a trusted partner of Georgia.
During his visit, Lithuanian Prime Minister also met with his Georgian counterpart Giorgi Kvirikashvili. The parties discussed possible ways to deepen bilateral cooperation in a number of areas, to enhance economic ties and Georgia's path to the European and Euro-Atlantic integration. Kvirikashvili stressed the importance of the Lithuanian Prime Minister's visit stating that "this visit is symbolic for both parties as we celebrate 100 years of the republic. We are glad that we have a very high level of political and economic relations. We have very positive dynamics, so we welcome you to Tbilisi. Lithuania is one of the greatest supporters of our European and Euro-Atlantic aspirations. We are grateful for that," the Prime Minister added.
The Prime Minister of Lithuania thanked his Georgian counterpart for his hospitality. "I am glad to be here. Georgia is a very important strategic partner for Lithuania," Skvernelis emphasized.
Lithuania has been a member of European Union (EU) and NATO since 2004. It is one of the biggest supporters of Georgia's Euro-integration process. Lithuania has expressed their support for Georgia on multiple occasions during the last decade:
In 2008, during the August War, Prime Minister of Lithuania, together with the President of Poland, Ukraine, and Estonia visited Tbilisi to support Georgia and condemn the Russian aggression.
In 2015, Lithuania was one of the first EU countries, which voiced the strong support for Georgia's EU visa free aspiration;
In 2017, Lithuania changed the official name that was used to denote Georgia, from Russian "Gruzia" to "Sakartvelo," a name of the country used in Georgian language.
In 2017, the Foreign Affairs and European Affairs Committees of Lithuanian Seimas adopted The Action Plan on Support to Georgia for 2017-2020. The action plan consists of 7 main chapters: 1. Political support; 2. Expert and financial support; 3. Support for defense and the armed forces; 4. Promotion of economic cooperation and direct investment; 5. Support for education; 6. Parliamentary cooperation and political diplomacy; 7. Other support measures; (Strategic communication and Support to civil society).