Wind Power Plant to be constructed in Shida Kartli Region
By Levan Khutsishvili
Thursday, February 22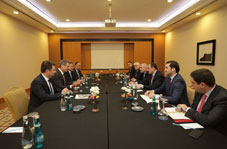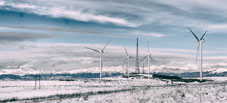 On February 20, 2018, Georgian delegation, including first Vice Premier, Minister of Economy and Sustainable Development Dimitri Kumsishvili, Deputy Ministers of Economy and Sustainable Development Giorgi Chikovani and Roma Mikautadze and the director of "Energy Development Fund of Georgia" – Tornike Rizhvadze, met with Chairman of "Calik Enerji" Supervisory Board Ahmet Calik Ankara, Turkey.
The meeting discussed construction of a new wind power plant in Georgia. The sides agreed that the largest Turkish energy company "Calik Energy" will invest in building 50 MW wind power plant in Shida Kartli Region. The project will cost 75 million dollars and the partners will include "CALIK ENERJI SANAYI TICARET A.S" with 85% share and "Georgian Energy Development Fund" with 15% share.
"We have recently negotiated with Calik Energy founder and chairman of Supervisory Board of company Ahmet Calik, and agreed that the 50 MW wind power plant will be built with investment of 75 million dollars in Shida Kartli. The project is crucial and will create new renewable energy source for Georgia," Kumsishvili stated.
Ahmad Calik believes that the investment will contribute to the cooperation of the two countries in the fields of energy and economics. The company has already invested in several energy projects in Georgia.
"Today we have a very valuable delegation from Georgia, the meeting was successful and we decided that "Calik Energy" will invest in wind energy and solar energy in Georgia. The first project is 50 MW wind power plant," said Calik.
Newly planned project will be the largest renewable energy project for Georgia. The first wind power plant in Shida Kartli, near Gori, was officially commissioned on 20 December 2016 with the power of 20.7 MW. According to the official data, in January, 2018, "Kartli Wind Power Plant" generated 7 123 340 KW energy, which is 723 000 kWh ahead of the January forecast.
"Kartli Wind Power Plant" is the first project in Georgia in the field of alternative energy. As noted in the report of the European Commission 2017, the Kartli wind power plant is strongly supported by international investment funds and project contributes in development and diversification of renewable energy sources in Georgia. The EMEA Finance (Europe, Middle East and Africa Finance) named the project "Kartli Wind Power Plant", based on its financial and technical characteristics as the best deal of renewable energy projects in 2016.
The Kartli Wind Power Plant has generated and delivered 103 923 000 KW electricity since its creation.