Trilateral Military Brigade - Response to Russia's Aggression
By Khatia Kardava
Monday, March 5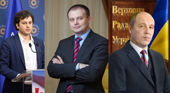 Speaker of the Verkhovna Rada of Ukraine Andriy Parubiy initiated the establishment of the tripartite Ukrainian-Moldovan-Georgian military brigade. He wants the first session to be held in Kiev, where the issue of formation of a joint military brigade will be discussed.
Parubiy made the statement on March 2, during his visit to Moldova, at the parliamentary conference "Georgia, Moldova and Ukraine: Eastern Partnership and Current Security Challenges."
"The very format and the very fact, the symbolic significance of such a joint military formation is very positive, and I think that we can use this experience in our trilateral cooperation," the Verkhovna Rada Speaker said.
He suggested (after all the three states make the decision and after formation of the trilateral assembly), holding the first meeting of the Ukraine-Moldova-Georgia tripartite assembly in Kyiv to discuss the establishment of a military brigade and set future tasks and prerogatives there.
"Because there are common tasks in many fields including information security, cyber security, energy security and the creation of a joint military formation, I think it would be good idea to discuss at the very first meeting," said Parubiy.
In creating a new union, Parubiy suggests using the experience of the military alliance on the model of the Ukrainian-Polish-Lithuanian brigade.
As a reminder, the Grand Hetman Kostiantyn Ostrogski Lithuanian-Polish-Ukrainian Military Brigade was established in 2014.
It's too early to say how realistic this idea is or how it benefits Georgia, Moldova and Ukraine. As the initiative was just announced, a detailed plan or goals have not yet been elaborated.
According to Ukrainian political scientist Vladimir Fesenko, the idea of creating a military alliance is quite real, but it is unlikely to be implemented in a short time. "Most likely, to begin with, Kiev, Chisinau and Tbilisi will create a common battalion. This military formation could participate in various UN peacekeeping operations. Even then, the leaders of the three countries can raise the issue of a broad military alliance. I think there will be no problems in creating a military alliance between Kiev and Tbilisi. Relations between Ukraine and Georgia improved significantly after President Poroshenko's visit to Georgia. It is possible, however, that there will be difficulties with Chisinau's position, since there is an ambiguous domestic political situation in Moldova", Fesenko said.
Russia's officials have not made a comment yet, but nobody doubts that they will certainly perceive a new military alliance very negatively.
"Regardless of external opposition, the leaders of the three countries may create a military alliance, since all three countries are united by a common external threat." - added Fesenko.
Of course, without the support of the West it will be difficult to fulfill this idea. EU and US officials permanently make statements about Russia's aggression. Maybe it's time to act?
It should be noted a powerful speech of A. Wess Mitchell, assistant Secretary, Bureau of European and Eurasian Affairs made on Remarks to the Senate NATO Observers Group, on February 28, 2018:
"Ten years have now passed since Russia invaded Georgia and NATO issued the Bucharest Summit Pledge to aspirant members. Four years have passed since Russia invaded Ukraine, where more than 10,000 people have now died as a result of Russian aggression. Under Vladimir Putin's leadership, Russia has demonstrated its ability to not just threaten and invade neighbors but spread chaos, disinformation, and disruptive influence into the very heart of Western Societies. This, together with the ongoing challenges of terrorism and migration from Europe's Southern Frontier, show that NATO's role is more relevant today than at any time since the high point of the Cold War".