Govít and Parliament Vow Decentralization
By Vladimer Napetvaridze
Tuesday, March 6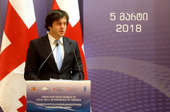 On February 5, at the Parliament meeting , were discussed the issues of decentralization and strengthening a local self-governance. Spokesman Irakli Kobakhidze noted the importance of self-governance. "Decentralization is one of the key aspects of the formation of a democratic and effective governance system. Formation of the system of a territorial management is very important and strengthening the local-governance, which is a cornerstone of democracy, has a key role in this process. Decentralization is associated with an efficient governance it is also a necessary term in order to establish a democratic system and form a legal state. Therefore, decentralization process has a double importance for development the governance system of the state,Ē stated Kobakhidze
Even though after coming to power, the ruling party declared the process of decentralization as one of the priorities, their self-governance policy often causes controversies. For example, the Presidential veto on the amendments to the Code of Self-Governance. The President Giorgi Margvelashvili vetoed the decision of Parliament to abolish the status of seven self-governing cities, thus suspending the process of reforms. The amendments on self-governance was initiated by the Prime Minister Giorgi Kvirikashvili and the Parliament adopted a resolution to unite seven cities, (Gori, Ambrolauri, Mtskheta, Ozurgeti, Telavi, Akhaltsikhe, and Zugdidi) with its municipalities. The resolution was supported by 85 MPs and only 10 were against it.
The decision caused protest of the civil sector. Non-governmental organizations wrote a joint letter to the President and they urged him, not to sign the bill of amendments on local government code and send it back to Parliament with remarks.
The President announced his opinion that the amendments would weaken the countryís democracy. Therefore, he vetoed proposed changes to the Local Self-Government Code. It is important to mention, that the process of decentralization started after a new political party Georgian Dream came to power. "Turning this process back is absolutely unimaginable and unacceptable. Reducing the number of self-governing cities weakens the importance of municipal elections,ď said Margvelashvili in his statement.
Prime Minister Kvirikashvili noted that although the number of self-governing cities decreased from 14 to 7 and they were united with municipalities, this would not reduce the quality of self-government as the financing of those unions would not change.
The head of the government said that because of the dual governance system, there were a number of problems in terms of efficiency and execution in these regions.
As a result of the reform these United municipalities have the Mayor's office, and Mayor nominates candidates for deputy Mayor to municipality council. Beside this, in the municipality territories, the governmental bodies, which bring the needs and demands of citizens directly to the mayor, are set up.
Decentralization of power is one of the cornerstones of democracy. It allows the development of participatory democracy principles, which considers the maximum involvement of the citizens in the political processes. However, this is a bilateral process. On one hand, the government should be willing to give the public the opportunity to be engaged in political processes, and on the other, the political culture of society and demand to participate in decision-making process must be high. Therefore, only the reforms in a law about self-governance of Georgia, cannot ensure proper functioning of self-governance. If the population does not have enough awareness about the significance of participating in the political processes, their involvement in the activities of local government may be minimal. The idea of creating the governmental bodies, which will bring the demands of the citizens directly to a Mayor of the municipality, in a way addresses the mentioned problem of citizensí low awareness.