Installation of Meters to Be Mandatory in Tbilisi Taxis
By Tea Mariamidze
Tuesday, March 13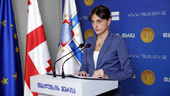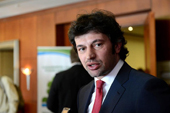 Deputy Tbilisi Mayor, Maia Bitadze says after the mandatory registration of taxis, Tbilisi taxi drivers will have to install taximeters in their cars.
Bitadze explained that taxi regulation, recently initiated by the Mayor Kakha Kaladze, consists of three stages.
According to her, the first stage is registration, which includes paying the fee and obtaining a special permission paper.
"The drivers of hybrid cars will see some benefits in terms of registration fee while it will be absolutely free for the owners of electric cars," she said.
Deputy Mayor said the taxi driver must place the permit in the car, which would indicate the name of the driver, the model of the car and the registration number.
As for the second stage, Bitadze explained it will be launched in 2019 and will envisage mandatory technical inspection of taxis.
"If we are to control bus drivers and mini-bus drivers, in order to ensure safe transfer of the population and tourists, why not do the same with taxi drivers who are getting more for their services. Also, it is important that the visual as well as internal conditions of the taxis are in line with our requirements," she added.
Maia Bitadze says the third stage will be launched around three years later and it will envisage mandatory installation of taximeters in Tbilisi.
"Taximeters will make the service of Taxis in the capital more reliable and will help people and tourists save money," she said.
Tbilisi Mayor announced the mandatory registration of Tbilisi taxis in late January.
Kaladze stated that the residents of Tbilisi and the guests of the capital deserve a high-quality, safe and comfortable taxi service.
The Mayor explained that the mandatory registration will increase service standards and will help with establishing modern transport system in Tbilisi.