Lukashenko Says He Feels Particular Respect to Georgia
By Tea Mariamidze
Monday, March 26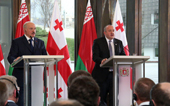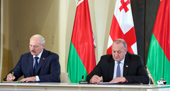 The Belarus President Alexander Lukashenko stated during his last week's visit to Georgia that he has visited many countries, but feels particular respect to Georgia.
"Georgians and Belarusians are quite similar. I feel like at home in Georgia," Lukashenko stated in Tbilisi, within his second trip to Georgia on March 21-23.
For the first time during 25-year Georgia-Belarus relationship, the presidents of the two countries – Giorgi Margvelashvili and Alexander Lukashenko signed the Framework Agreement, which advances mutual cooperation in various fields.
The agreement involves recognition of universal principles of international law, respect for sovereign equality and territorial integrity in internationally recognized borders.
It also reads that Belarus and Georgia share common interests to strengthen friendly relations in all the areas and develop long-term mutually beneficial cooperation.
Along with the Framework Agreement, Georgian and Belarusian Foreign Ministers signed mutual visa-free agreement.
Prior the signing ceremony, Lukashenko and Margvelashvili held face-to-face and extended meetings. As highlighted at the meetings, Georgia-Belarus bilateral political cooperation has been advanced throughout last three years, adding this progress is dynamically developing and irreversible.
The two presidents also discussed peace and security challenges in the region and in the occupied territories of Georgia, installation of barbed wire fences and artificial barriers.
"Today our partnership is dynamically developing in all the areas. Political, trade-economic and cultural ties between our states are enhanced on daily basis. Compared to past years, trade turnover between our countries is increased by 24%, while tourism rate by 29%," Margvelashvili said and noted that the agreements of cooperation in the areas of agriculture, healthcare, education and culture will contribute to the development of cooperation and trigger further reinforcement of Georgia-Belarus relations.
While delivering speech, Lukashenko pointed out that there are no dead-ends in Georgian-Belarusian relations, as the countries share sincere relations.
"In case you need help, we will help you in every possible way…We have never let Georgia down; our door is always open for cooperation with your country. I will always support all bilateral projects that further deepen our relations. As a citizen, as a head of my country, I wish Georgia peace; I would like nice Georgian people to live in prosperity, as they deserve it. We are always ready to help you," President of Belarus said.