Deputy FM explains lawmakers what non-use of force means with Russia
By Levan Khutsishvili
Monday, March 26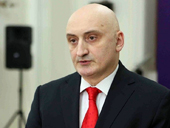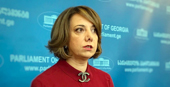 The Parliamentary Minority invited David Dondua - Deputy Minister of Foreign Affairs and the head of Georgian delegation in Geneva for explanation, regarding the upcoming meeting in Geneva.
As it was announced through the media sources, Abkhazian side is hoping to reach verbal agreement with Georgia on Non-Use of Force and political party "European Georgia" had questions with Georgian Delegation about the plans for Geneva meeting in March 27-28.
"It was our serious concern that the process, which is going on in Geneva today, will be used to develop a new possible document that will be used by Russia in order to achieve its goals in the Geneva talks. So this meeting was important. We have clearly explained to the representatives of the Foreign Ministry that any kind of progress in such negotiations requires the discussion of the text, including the parliamentary format. Consequently, I think that in the next round of Geneva Discussion we will see that the Georgian government will take a more cautious position than they could have held today without a meeting. As for my own assessment, this document is only an attempt to create an illusion that we can make some progress in negotiations with Russia and we are just dampening our fundamental interests, which is to increase international pressure as soon as possible on Russia. That is a position that I floated with Foreign Ministry representatives. We intend to actively control every step of Georgi
an delegation in the format of Geneva negotiations, as it seems that there are attempts of using this format for Russian interests, "said Salome Samadashvili, member of "National Movement".
Discussions in Geneva started after the August War, 2008 and Georgia, Abkhazia, Tskhinvali and Russia sides participate in it together with representatives from the UN, OSCE and the European Union. The Non-Use of Force is one of the key issues of the Geneva Discussions. Georgia has announced about none using the force in 2010 and demands from the Russian Federation as well. Russia, does not considers itself a part of the conflict, wants Georgia to sign such agreements with de facto republics of Abkhazia and Tskhinvali. Such initiative is unacceptable for the Georgian side, however the statement of Daur Cove - Foreign Minister of de facto republic of Abkhazia raises doubts about the strategy of Georgian Delegation.
During the meeting in Parliament, David Dondua underscored that Georgian side is not planning to discuss agreement of Non-Use forces with de facto republic of Abkhazia. He said that information spread by Georgian and Russian media is mostly wrong interpretations of the facts. According to Dondua, there has been some progress in negotiations in recent years, but there remain issues that needs to be discussed.
"The main goal of this statement is to support the implementation of the Ceasefire Agreement between Georgia and Russia on August 12, 2008, and the creation of international security mechanisms on the occupied territories that are envisaged by the sixth paragraph of the Ceasefire Agreement. It has nothing to do with political or any status of Abkhazia and Tskhinvali. Also, I would like to emphasize that this statement will be received or not, the agenda anyway remains an issue that Russia should take responsibility not to use force against Georgia, as Georgia has unilaterally done it many times," stated Dondua.