Worker Dies in Georgia's Chiatura Mine
Tuesday, March 27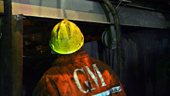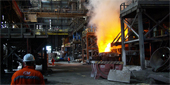 45-year-old miner, Zaza Abramishvili died early on Monday in Chiatura Shukruti mine, west Georgia, while performing his duties.
As reported by media, the ceiling of the mine collapsed and large rocks fell on the worker. There were so many ruins that the rescuers were working at the site for 8 hours to take the body out.
The Trade Unions say the mine was operating without observing safety norms, adding several workers confirmed this.
Tamaz Dolaberidze, chairman of the trade union of metallurgists, miners and chemists, says the mine ceiling was not strengthened by special wooden poles, alleging this might have caused the collapse of the mine ceiling.
He stressed the mining company, Georgian Manganese, which carries out mining operation in seven mines and eight quarries, including Chiatura, should care more about the lives of its employees.
Georgian Manganese released a statement, saying it was an accident and the safety norms were ensured in the mine.
The organization claims that their mine is usually been twice a year.
Georgian Manganese explains that the last time they applied LTD Techinspectguard, a state-led inspection body, which carried out the inspection and gave them the proper certificate on January 25.
According to Nikoloz Chikovani, a special manager of Georgian Manganese LLC, it is too early to talk about the causes of the incident in Chiatura mine.
As Chikovani told the media, the primary inspection of the accident site does not show the signs of crime or breach of norms.
"Specialists think that all the norms at the mine were protected. Nevertheless, we will wait for the investigation results and if anyone is found guilty, they will be punished in accordance with the law," said Chikovani.
The Ministry of Internal Affairs has launched an investigation under Article 240 of the Criminal Code of Georgia, which pertains to the violation of safety rules.