European Parliament Member: There is no De-Facto Tskhinvali Government
By Vladimer Napetvaridze
Tuesday, Macch 27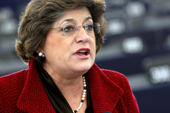 On 26 March, in her interview with "Kviris Palitra", member of European Parliament- Ana Gomes, who represents the group of the Progressive Alliance of Socialists and Democrats, discussed a problem of Tskhinvali. As she noted, there are no de facto authorities in Tskhinvali, because everything is ruled by Russia.
"I often hear the term "De-facto government". There is no De facto government In Tskhinvali because there is occupant Russia. The fact that Tatunashvili's body was returned to the family after 26 days, was terrifying. I know that it is very hard, everyone in Georgia is very difficult to accept this fact, the government has done everything to bring the body of their own citizens back. This shows that Russia is becoming more and more aggressive. Don't lie to ourselves - beyond everything that's happening in Tskhinvali, stands Russia. I want to express my full support to the family of the deceased, and to people of Georgia. Soon security and defense committee of the European parliament will visit Georgia. I hope this will give the European Parliament an opportunity of better understanding the situation. We are concerned about Georgia and Russia's provocations are unacceptable. This is the time when every friend of Georgia should support the country."- Gomes stated.
As a proof of Ana Gomes assumptions about Russian influence over Tskhinvali region, we can discuss the investment program of socio-economic development of Tskhinvali in 2015-2017, which assumed expenditures of more than 4.2 billion rubles (70 million USD). This money has been spent on the implementation of 36 projects in such areas as housing construction, communal services, culture, education, and transport infrastructure. It is noteworthy that this is not the first financial aid from Russia to Tskhinvali.
In 2008, after the recognition of Georgia's breakaway territory's independence, Russia has spent billions of rubles on financing Tskhinvali. According to the leading geopolitical intelligence platform - "Stratfor.com", it is Russian policy to finance all the breakaway territories in the post-soviet region. It is important to mention, that these territories are largely dependent on Russia's financial aid for survival because they are all economically isolated and effectively run on black and gray economies. According to "Stratfor.com" various compiled estimates shows that Russia has annually been spending about $300 million on Abkhazia and at least $100 million on Tskhinvali and Transdniestria to finance their budgets and provide them with cheap fuel, etc.
The question is how long Russia is going to finance all the breakaway or conflict territories in the post-soviet region. The authorities of Abkhazia and Tskhinvali admit that their budgets are still being formed to a large extent at the expense of funds from Russia. In particular, more than 90% of the budget of Tskhinvali region is formed by Russian subsidies.
Based on the numbers, it is clear that without Russian financial assistance, there would no economy in Tskhinvali. Therefore, it is clear that behind the de-facto government of Tskhinvali region, stands Russian political interests.