Economy Minister Says Georgia-Israel Trade Turnover to reach $1 billion
By Gvantsa Gabekhadze
Thursday, March 29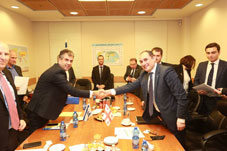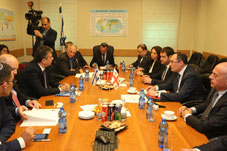 The Georgian Economy Minister Dimitri Kumsishvili claims that the Georgia-Israel trade turnover will reach $1 billion over the course of the next five years.
Developing trade and economic relations was one of the main topics of discussion at Kumsishvili's recent meeting with the Minister of Economy and Industry of Israel, Eli Cohen.
"Trade turnover between the counties increased by 31 percent in 2017 compared to 2016, while export increased by 28 percent during the same period. Juice, beer, wine, mineral water and nuts are Georgia's main export products to Israel," the Georgian Economy Ministry reports.
Currently there are 271 Israeli companies operating in Georgia, the total sum of the investments of which reaches $124 million.
The ministers agreed to deepen cooperation in various fields of economy and found several sectors interesting for future cooperation such as maritime transport, logistics, advanced technology and tourism.
As for tourism, the number of Israeli tourists visiting Georgia increased by 26 percent in 2017 compared to 2016.
Israel is the seventh country from where the largest number of travellers came to Georgia in 2017.