US Assistant Secretary: The World Remembers Russia's Occupation in Georgia
By Gvantsa Gabekhadze
Wednesday, May 2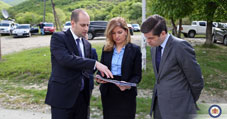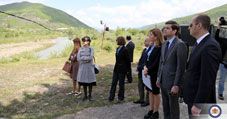 "There was the war here 10 years ago and I am here today to remind Russia that the world has not forgotten these events," Wess Mitchell, the US Assistant Secretary of State for European and Eurasian Issues, said in the village of Odzisi, near the occupation line between Georgia and its occupied Tskhinvali region on Tuesday.
"We do not recognise this dividing line as an international border, we are very concerned about the security situation of those Georgians living beyond this line. We condemn any action related to the detention, torture and murder of Georgian citizens and offer our condolences to their families," Wess Mitchell said.
He called on the Russian government to comply with the 2008 ceasefire agreement obligations and withdraw the recognition of the Georgian regions of Abkhazia and Tskhinvali.
"The United States is committed to Georgia and its security and we appreciate the effort that comes from the government, parliament and people- to show commitment to democratic reforms and to have a successful and democratic country," Mitchell stated.
During the visit in the village Mitchell was accompanied by Foreign Minister Mikheil Janelidze and a representative of the Analytic Department of the State Security Service.
Wess Mitchell arrived in Georgia on April 29 and left the country on May 1st.
He participated in the NATO-Georgia public diplomacy forum in Tbilisi on April 30, where he said that the US President Donald Trump supports the 2008 NATO Bucharest declaration and appeals to alliance member states to adhere to the obligations taken within the declaration.
The Bucharest declaration contains promises that Georgia will become a NATO member state.