Georgian Delta and Austrian Rosenbauer Agree to Produce Anti-Fire Vehicles
By Gvantsa Gabekhadze
Monday, May 7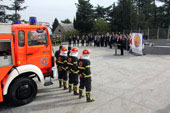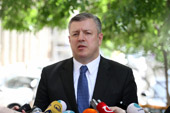 (TBILISI) - The Georgian Government-owned State Military Scientific-Technical Center-Delta and leading Austrian Rosenbauer Group have agreed to produce new anti-fire vehicles, Georgian Prime Minister Giorgi Kvirikashvili stated last week.
"We have already announced a tender for the purchase of special, anti-fire vehicles. Also, a very significant agreement has been achieved with the Rosenbauer Group [one of the world's three largest manufacturers of fire-service vehicles, based in Austria]," Kvirikashvili stated.
"Rosenbauer, with the Georgian government-owned State Military Scientific-Technical Center Delta will start producing fire vehicles. The vehicles will be designed as pick-up cars and come with Rosenbauer systems," Kvirikashvili stated.
Kvirikashvili said he was expecting the first samples of new vehicles in several months.
The PM announced this and other steps will empower the country's Emergency Management Service and increase efficiency of the service.
Kvirikashvili stated that the State Emergency Management Service will be more independent in decision making and additional funds will be spent on the purchase of anti-fire equipment.
"The Emergency Management Service will be tasked to evaluate threats, make decisions independently and act as a coordinator in emergency situations," Kvirikashvili said.
"A volunteer system will be established, as well as an alternative military service to provide more staff in emergency situations on time. In order to prevent crises the agency will be tasked to closely cooperate with scientists," Kvirikashvili added.
The Emergency Management Service of Georgia was in focus last year, when the country had to cope with more than hundred cases of fires around the country.
The opposition grilled the government for not spending money for anti-fire planes and vehicles, as the Emergency Service lacks such equipment.
The opposition also criticized the government for low salaries of the Emergency service staff, which is about 200 USD in regions and 350 USD in Tbilisi.
In February 2018 the government announced about "positive changes" for the Emergency Service staff.
The amendments read that the Emergency Service employees who have four and more children will receive additional bonuses, no more than 20 percent of their monthly salaries.
Those who have four children will be paid 250 GEL ($101) monthly salary supplement; a parent with five kids will receive 375 GEL ($151); the supplement for six kids will amount to 500 GEL ($201); for seven kids and more - 625 ($252) GEL.
If the Emergency Service employee receives a grave injury on duty he or she will receive 7,000 GEL ($2,900) one-time financial support from the state budget.
For less heavy injuries, the support will reach 4,000 GEL ($1,600), and in case the injury is light, one-time financial support will amount to 2,000 GEL ($800).
If the employees marry, they will receive a 1,250GEL ($505) one-time bonus. The same amount is also given In case of having a baby or losing a family member (spouse, child, father or mother).
The insurance expenses for the Emergency Service staff, their spouses and underage children, are fully covered by the state budget.