Georgia marks Europe Day 2018
By Levan Khutsishvili
Monday, May 7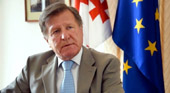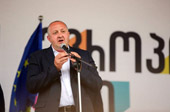 On May 5, European Days 2018 opened in Rike Park Tbilisi. Guests of the event were welcomed by the EU Ambassador in Georgia, Janos Herman, the President of Georgia Giorgi Margvelashvili, City Mayor Kakha Kaladze and other representatives of Georgian Government.
Janos Herman underscored the importance of creation of EU after World War II as a strong response to those who were trying to conquer the European continent. Herman said the EU appreciates the cooperation with Georgia, Association Agreement and Georgia's efforts to integrate in the EU.
"I see Georgian and the EU flags that fly side by side and I want to tell you that there are not too many countries outside the EU where the golden stars on the European Union flag feel so much at home. It means the recognition of cooperation with Georgia, from our side," noted the EU Ambassador.
Giorgi Margvelashvili congratulated everyone on the beginning of European Days and said that the EU is the most powerful union, and it will become even stronger once Georgia joins as a full member.
"There are two very important moments in European civilization - individualism and preservation of this individualism. We are naturally a part of this culture and I congratulate all who work on creating free Georgia. European countries are supportive of Georgia, and this support will be more clearly demonstrated on the 26th of May, when we, together with our European counterparts will celebrate the 100 years of the First Georgian Republic," said the president.
Tbilisi City Mayor Kakha Kaladze and the Vice-Prime Minister, Minister of Foreign affairs Mikheil Janelidze noted that Georgia is a European state and part of the European culture with its values, diverse society and history.
"Today we are in the EU- associated country. We are recognized by the EU as a leader in the European integration process, as well as one of the most important partners in security and defense in the eastern neighborhood, but this is not the end of the road. Our European path leads us to the full EU membership. We enjoy full support from the society and every state institution. Everybody is united in the process and it brings Georgia closer to this goal. Today our European future is reflected in our constitution. I wish Europe to be strong, free, developed, expanded and peaceful," said Janelidze.
"I am Georgian, and therefore I am European," Kakha Kaladze repeated the words of Zurab Jvania. City Mayor spoke about the achievements of the country in relations with the EU. He noted that the visa-free regime was an important step towards the EU but much more is left to be done.
European Days 2018 will last till the 22th of May, and several activities – meetings, conferences, debates, exhibitions, public lectures, etc. are planned in different regions of Georgia.