NGO Demands Declaring Emergency Situation on Georgian Roads
By Tea Mariamidze
Thursday, May 10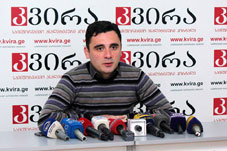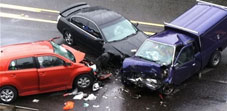 Georgian Transport and Road Association demands declaration of an emergency situation on the roads after the recent tragic accidents which claimed lives of 11 and left dozens injured.
The organization says the situation is complicated and demands immediate meeting of the non-governmental sector with the Ministry of Internal Affairs and the Economy Ministry.
The Chair of the organization, Davit Meskhishvili stressed that 11 people died and 30 were severely injured in accidents in the last few days. According to him, the current system in the country is not effective and some steps need to be taken in order to improve the situation in this regard.
"Legislative amendments should be prepared in which NGOs will be involved. the The traffic movement in the direction of seaside resorts will be intensified this summer.This is why maximum mobilization by the patrol police is necessary," he said.
Meskhishvili says that Georgian Transport and Road Association has prepared some findings that will help to identify the problems and prevent accidents:
1. Transport sector is managed by several ministries, which creates a communication problem and negatively affects the whole situation. European practice shows that road safety should be managed by one institution, and it should be the Ministry of Regional Development and Infrastructure.
2. The Ministry of Internal Affairs does not completely fill in the registration card of the road accidents. On one hand, these shortcomings complicate the possibility of identifying the problematic sections where accidents occur most frequently, and on the other hand they restrict the possibility of defining efficient and targeted response policy.
3. The exact location of the so called Black Areas has not been identified, which would make it possible to avoid future accidents at such sections.
4. Today everyone can take the driver's license and you do not need to have the driving skills. The system of the examination needs to be changed and tightened.
5. The current legislation is too loyal towards drunk driving and speeding and after half a year, such offenders are still able to get a driver's license.
6. In order to raise awareness of the population, there is no campaign on the road safety issues. Such campaigns are being underway in all European countries.
In the first quarter of 2018, 1428 accidents occurred in Georgia, with 107 dead and 1986 injured. In 2017, 6079 accidents were recorded, which claimed the lives of 517 and injured 8461.