Communists demand a restoration of Stalin Monument in Gori
By Vladimer Napetvaridze
Thursday, May 10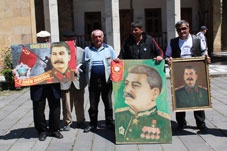 Victory Day (9 May) is a holiday that commemorates the surrender of Nazi Germany in 1945. The Soviet government announced the victory early on 9 May after the signing ceremony in Berlin. Georgia has officially recognized 9 May since its independence in 1991. The holiday was similarly celebrated, while the country was part of the Soviet Union. Every 9 May, World War II veterans gather and celebrate.
On May 9, the supporters of the Soviet Union are actively involved in various activities held in the different cities of Georgia, during these events, they are using Soviet symbolism, which is the illegal according to the Georgian legislation.
From this perspective, the support is prominent in Gori, where a big part of the population thinks Georgia should be under the Russian influence and the main threat for Georgia is the countries Euro-Atlantic aspiration.
Such attitude on the part of the population became the reason for another confrontation in Gori on May 9th. Members of the organization "Civic Movement" decided to spread the booklets about Russian occupation, which caused a conflict. A group of people claiming to be members of "Stalin Society" opposed the members of the civic movement and did not allow them distribute their booklets.
A member of a civic movement, Irina Tsaadze stated, that they wanted to explain to a local population, that Russia is an occupant: "We wanted to distribute our stickers in Gori and create a public opinion that Russia is an occupant. We came here and met with older people who believe that Russia is not an occupant and when Georgia has the pro-Russian government, we will be executed," Tsaadze stated.
Another member of the "Stalin Society" Zurab Zurgulidze stated that he won't allow anyone discriminate against the Soviet Union: "Today is a big day, people celebrate this day, which saved millions of lives and the author of this day is Stalin. Today I'm not going to listen to demagogues, who are against the Soviet Union. As for the Soviet symbolism, I will always use it as long as I'm alive. We are Stalinists and we will break hands to anyone against us", the member of the "Stalin Society" stated.
Later, on that day a demonstration was held in Gori, where the members of the meeting demanded that Stalin's monument in Gori is restored. It is important to note that together with the Georgian state flag there was the Soviet Union's flag at the demonstration, but participants of the meeting removed the Soviet symbols due to the law enforcers' demand.
Situation in Gori is another result of Russian information hybrid warfare. A large part of the population is convinced that the main threat to Georgia is the aspiration to join the western organizations, as it irritates Russia and forces it to occupy Georgian territories.
To fight the Russian information warfare, which aims at misdirecting Georgian citizens and creating pro-Russian public opinion, large-scale information campaigns are needed.