Aircraft Part Producing Factory Opens in Georgia
By Tea Mariamidze
Friday, May 11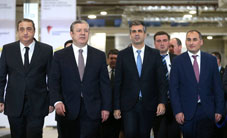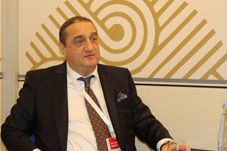 A $98 million worth factory - Aero-Structure Technologies Cyclone has opened in Georgia's capital Tbilisi, which will produce aircraft parts.
The factory will make parts for such passenger planes as Boeing, Airbus and Bombardier. ATC is the first such factory in the region which will produce plane parts and export them.
The official opening ceremony was attended by the Prime Minister of Georgia Giorgi Kvirikashvili, representatives of government, parliament, local government, diplomatic corps and business circles as well as Israeli government officials.
The project has been implemented jointly by Georgia's state-led partnership fund and Israeli Company Elbit Cyclone.
The construction of the venue started in September 2016 and is expected to release production by the end of 2019, after it undergoes proper authorization procedures.
100% of the products produced in the factory will be exported. After the full-scale operation in five years, the annual sales of the enterprise are expected to exceed $ 60 million.
80 employees are currently employed in the company. After it becomes fully operational, around 300 people will be employed there.
"Georgia is earning its place on the map of the international air industry," Georgian Prime Minister Giorgi Kvirikashvili said at the opening ceremony.
The PM said Israel can supply leading technologies to the country. He welcomed the large investment of Israel in Georgia.
"This year we celebrate 100th anniversary of the independence of the Republic of Georgia, the 100th anniversary of modern Georgia. Israel also celebrates the 70th anniversary of modern Israel…The joy of our two brotherly countries has been united in this beautiful project and this is a day of revival of air industry in Georgia," said Kvirikashvili.
The President of the Partnership Fund Davit Saganelidze said the opening of the factory in Tbilisi means that world-famous companies trust Georgia.
"Our country has its own place on the world aviation market map. This is a serious signal for investors and an important factor for the development of the Georgian economy," he added.
In addition, Georgia and Israel are launching a feasibility study on expanding the investment ties between the two countries and to increase awareness of Georgia's investment opportunities in Israeli business society.
Georgia's Economy Minister Dimitri Kumsishvili and the Minister of Economy and Industry of Israel Eli Cohen signed the declaration on launching the free trade feasibility study between Georgia and Israel on May 10 in Tbilisi.