Georgia's Minister of Economy Meets US Secretary of Commerce
Thursday, May 24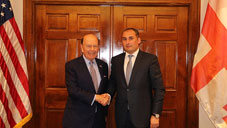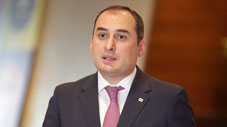 The First Vice Prime Minister of Georgia, Minister of Economy and Sustainable Development Dimitri Kumsishvili met the United States Secretary of Commerce Wilbur Louis Ross in Washington DC on Tuesday.
The meeting of Kumsishvili and Wilbur Louis Ross is the first official meeting held between such high-rank US and Georgian officials of economy sector. Georgian minister is visiting the US within the frames of the official visit of the Georgian Government.
The sides positively assessed the bilateral trade and economic relations, which, besides the net economy, also has political loading. At the same time, the special emphasis was placed on the fact that the potential is very high in this direction.
Kumsishvili mentioned the development of the transit corridor passing Georgia and the involvement of the US state and private sectors in this process.
Special attention was paid to Georgia's transit capabilities and the transit corridors (TRACECA, Trans Caucasia International Transport Corridor or so called middle corridor; Lapis Lazuli; Persian Gulf – Black Sea corridor, etc.) passing over the territory of the country and to the efforts of the Georgian Government aiming at development of those transit corridors.
The meeting also focused on such significant projects as the Anaklia Deep Sea Port, the East-West Highway, the Railway Modernization Project allowing for tripling the current cargo turnover, the Baku-Tbilisi-Kars railway line and others.
Importance of the participation of the US company -the Conti Group and one of the world's largest operator the SSA Marine in the deep sea port development global project was specially highlighted as well.
Development of the transit lines of petrol and gas from Asia to EU via Georgia were also covered during the meeting.
Moreover, Georgian minister introduced the results of the study on the impact of the US-Georgia Free Trade Agreement on the bilateral economic relations to the United States Secretary of Commerce.
The study was conducted by the international consultancy company PWC following the request of the Georgian Government. The study reported that the Free Trade Agreement would significantly increase the export value of the both parties, promote investments and facilitate creation of new jobs. Georgian party welcomes the increase of the US investment in the country since it also brings new knowledge and technologies.
Kumsishvili also offered Wilbur Louis Ross to open the US Regional Office of Commerce in Georgia, which would cover South Caucasus states as well as the countries of the region.
Georgian Minister highlighted that the interest of the US companies towards Georgia as well as the Caucasus region in General has significantly increased recently. He added that opening of the Commerce Office in Georgia would further facilitate development of bilateral economic relations between Georgian and the USA business circles.
In the end, the sides agreed to hold additional trade missions, as the interest from the US business companies towards Georgia significantly increase every year.