Georgian Airways Criticizes TAV Georgia for High Prices
By Vladimer Napetvaridze
Thursday, May 24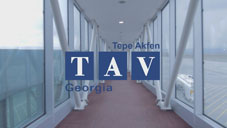 Last week, representative of Georgian airline company Georgian Airways, Tamaz Gaiashvili openly criticised Tbilisi Airport Operating Company TAV Georgia, which was established by Turkish company TAV Urban.
According to the founder of Georgian Airways, TAV services are expensive and ticket prices are artificially increased. He added the government is "powerless" as TAV has right to operate Tbilisi Airport until 2027. Gaiashvili says he decided to fight against TAV himself.
"For more than a year, I've been begging them to discuss these issues, but I couldn't convince TAV Georgia into talking about problems because they don't want to talk and show solidarity to the Georgian population, they are doing everything to have more income. I do not have anything against high income, but high income demands a high level of service, but nothing has been done yet," he said.
In response to these accusations "TAV Georgia" also released the statement and called out statements of Gaiashvili to be false: "For 13 years, "Georgian Airways" had all the privileges that "TAV Georgia" had been offering to local national companies. Every year, for 5 months "Georgian Airways" has been paying 50% of the cost of the service, and the remaining amount is being covered during the summer period. From the previous year, "Georgian Airways" has a special tariff with 20% "TAV" services. At this stage we have ongoing negotiations with the Georgian Airports Association to elaborate the new concept for supporting local companies. This new concept will provide solid discounts for "Georgian Airways". Representatives of Georgian Airways has been informed about this process and they have not answered yet," reads the statement of "TAV Georgia".
In response to TAV statement, "Georgian Airways" provided data about their payments for "TAV Georgia" services:
"For the last five years only for transporting passengers from terminal to plane, we have paid to "TAV" more than 43 million GEL.
In 2017 we served 182 506 passengers and paid more than 15 million GEL (15 788 336 GEL) to "TAV Georgia," stated "Georgian Airways ".
It is not yet clear which position will the Government and the Ministry of Economy hold. The fact is that the government does not intend to terminate the agreement with TAV Georgia until 2027.
Emphasising the fact that the Turkish people are trying to hamper the Georgian companies, clearly, serves to create a negative public opinion against "TAV Georgia" and this is not the first case when George Airways has confronted "TAV Georgia". In 2013, during the negotiations between the Georgian Government and "TAV" about re-signing the contract, representatives of the Georgian company criticized the process and underscored several shortcomings in the document, they protested the specific article of the document, according to which the government of Georgia was not allowed to build an airport in 150 km radius from Tbilisi or Batumi.
This detail of the contract may be more, than just a business interest.
TAV Airports operates in Turkey, Georgia, Tunisia, Macedonia, Latvia, Saudi Arabia and Croatia. Depending on the geographic location of Georgian airports, it has a great potential to become a transit hub. Although the Istanbul airports are one of the biggest transit hubs in the world, due to strict meteorological conditions in winter, the Istanbul airports are often closed for several days, which leads to the great financial losses. Therefore, Tbilisi and Batumi airports have the opportunity to actually compete with Istanbul airports, but at present, it is impossible because the company that owns Georgian airports, operates in Istanbul airports.