Accident Causes Partial Breakdown of Enguri HPP in Georgia
By Tea Mariamidze
Monday, May 28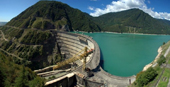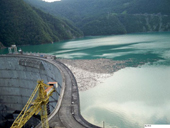 Georgia's largest power supplier - Enguri Hydroelectric Power Plant (HPP) is partially out of control due to the accident which flooded the first floor of the operational center and damaged turbine water pump.
According to Gia Khubua, technical director of the Enguri HPP station, it will take several days to fix the damaged machines and restore energy supply. "The con
sequences of the accident are not yet eliminated and the necessary works are carried out," he stated.
According to the Georgian State Electro System, the Enguri Hydroelectric Power Plant failed to work on May 24 at 20:11 which resulted into electricity shortages in the power sector and left some regions of the country and part of Tbilisi without electricity for several hours.
As for Abkhazia, all five aggregates located there had been flooded. According to the de facto Abkhazian side, the accident on 24 May on Enguri HPP left without electricity three regions- Ochamchire, Gali district and Gulripshi.
The Enguri hydroelectric power station is a cascade of hydroelectric facilities including the dam, which currently it is the world's second highest concrete arch dam with a height of 271.5 meters.
While the arch dam is located on the Georgian controlled territory in Upper Svaneti, the power station is located in the Gali District of breakaway region Abkhazia of Georgia.
Enguri HPP has 20 turbines with a nominal capacity of 66 Mega Watts each, resulting in a total capacity of 1,320 MW which is approximately 50% of the total electricity supply in Georgia.
The facility's arched dam, located at the town of Jvari, was inscribed in the list of cultural heritage of Georgia in 2015.
The rehabilitation on hydroelectric power plant is planned for 2018-2021.