France Sentences Georgian Criminal Boss and His Accomplices
Tuesday, June 19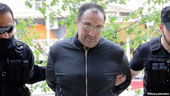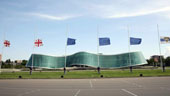 The French court sentenced a Georgian criminal boss Lasha Shushanashvili and his accomplices Zaza Elikashvili and Giorgi Elerjia to ten years in prison and forever prohibited them from entering the territory of France, the Georgian Interior Ministry said on Monday.
The Georgian Interior Ministry says that the offenders were detained via cooperation with Georgian law enforcers.
Four Georgian criminal bosses and 34 Georgian members of criminal groups were detained in France and Greece on April 16-17 with the help of the Georgian Interior Ministry.
The operation named Caucase Normandie was held simultaneously in French and Greek cities to detain the suspects accused of hundreds of robberies, the possession and sale of robbed items and money laundering.
The four criminal bosses detained were Lasha Shushanashvili , Aleksandre Kobaladze, Nodar Shukakidze and Merab Asanidze.
Shukakidze and Kobaladze were detained in France, while Asanidze and Shukakidze were detained in Greece.
The same day, on June 18, the Interior Ministry announced that they arrested six individuals on charges of 'belonging to the criminal underworld' in Zestaponi, in west Georgia, and Tbilisi.
The 'criminal underworld' is a form of organised crime usually under the protection of criminal bosses who organise the activities of gangs.
If convicted, the individuals face seven to ten years in prison.