Georgian Dream MP Initiates Special Hearing Regarding KazTransGas Debts
By Vladimer Napetvaridze
Tuesday, July 10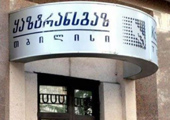 The MP of the Georgian Dream Davit Tchitchinadze demands to conduct a special hearing in the parliament regarding KazTransGas. Tchitchinadze raised the issue at the session of the Sector Economy and Economic Policy Committee and explained that they should investigate how billions of investment, as the Kazakh side stated, disappeared without the trace.
"Former ambassador of Kazakhstan gave a very unpleasant interview. It would be good if we invite representatives of the Ministry of Finance regarding the "KazTransGas" debts topic. The issue is about $ 40 million of debts, which in its time was imposed on "KazTransGas" by Saakashvili's government and during the years they used to regularly fine the company. This fact outraged the Kazakh investors. After the Georgian Dream government came into force, they tried to solve this problem, but the process was stopped. Today the agreement was signed, but I am interested in the 40-million-dollar issue that has long hindered Kazakhstan investments in the country. This led to the withdrawal of Kazakh investments from the country. This led to the cancelation of the project of Likan and so on. This issue deserves our attention because it is remarkable for other embassies and representatives of other countries, how Georgia lost the investment of around $ 1 billion," – Tchitchinadze stated. The, chairman of the committee Roman Kakulia agreed with Tchitchinadze regarding the issue of the conducting a special hearing.
KazTransGas Tbilisi was created in 2006 by KazTransGas JSC. The Investment Memorandum was signed between KazTransGas JSC and the Georgian Ministry of Economic Development on 26 December 2005. The goal was to ensure the supply of natural gas to the capital of Georgia and adjacent regions.
Between 2006 and 2009, the total investments of KazTransGas JSC in the development of KazTransGas-Tbilisi LLP and in the gas transit system of Tbilisi amounted to approximately 130 million US dollars.
On March 16, 2009, the Kutaisi City Court satisfied a request by the National Regulatory Commission of Georgia for Energy and Water Supply to approve the appointment of a Special Administrator of KazTransGas-Tbilisi LLP. As a result, KazTransGas JSC was no longer able to participate in the business operations of its subsidiary. KazTransGas JSC believes the Georgian authorities have breached its rights as a foreign investor under Georgian national law as well as international treaties for the protection of investments.
In 2017, KazTransGas brought claims against Georgia in the London Court of International Arbitration (LCIA). Claims arising out of Georgian authorities' appointment of a Special Administrator of the claimant's local subsidiary KazTransGas-Tbilisi in 2009, resulted in the claimant's loss of control over the subsidiary that was supplying Tbilisi and adjacent regions with natural gas in frames of the 2005 investment memorandum signed with the Georgian Ministry of Economic Development.