Putin warns NATO not to accept Georgia as a member state
By Vladimer Napetvaridze
Wednesday, July 18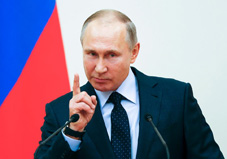 Last week's events were important for international politics. On July 11-12 NATO summit was held in Brussels. The summit was crucial for Georgia since it was expected that success of the reforms carried out in the country were acknowledged. The Alliance assessed Georgia's progress and consequently defined our NATO integration chances. As it was expected, the Alliance underlined Georgia's progress and once again emphasized the fact that the country will join the North Atlantic Treaty Organization.
In fact, the summit ended without any practical results for Georgia. Main hindrance for Georgia on the way to NATO integration is the Russian Federation and its imperialist ambitions. Russia uses all mechanisms to influence NATO member states and prevent Georgia's integration into the alliance. Putin confirmed it in his interview with Fox News, which he made after the joint conference with the President Trump: "It's a direct and immediate threat for our national security…moving NATO infrastructure towards our borders would be a threat, and the reaction would be extremely negative, it is a concern for us since the NATO is expanding its infrastructure and facilities, the number of servicemen is on the rise in the regions where they shouldn't be," Putin said, adding that the military contingent in those regions has been increased by 10,000 people. "This is incompliant to the treaties between Russia and NATO. And this is a destabilizing factor, which we have to face, but we haven't mentioned this today with President Trump." According to the Russian leader, Russia has to "react to what's going on around it." "Take the NATO expansion to the east. When the Soviet Union was withdrawing troops from Germany, we were told that Russians should know one thing: that NATO would never extend [eastward] beyond the German borders. Within two waves, it happened, despite our principal posture. Nobody gave a damn about our posture," Putin said.
The West understands that Georgia has the greatest strategic importance and its loss will be a big problem to Europe, on the other hand, Western leaders are trying to deal with Georgia and Ukraine with moderate policy, not to irritate Russia, which is the main supplier of energy resources to Europe. It is not a secret, that the main supporter of Georgia's NATO integration process is the United States. A few days ago, on the joint conference with Vladimer Putin, President Trump said that Russia's relations with the U.S. would be improved, and in a few days after this meeting, Putin still threatens the West not to accept Georgia as a member state of NATO. This means that the status quo is maintained. As expected, the alliance announced Georgia's NATO membership perspectives, which was followed by Russia's threatening tone, as it always happened. Georgia's integration in NATO could be a threat to Russia- not for its territorial integrity, but for its imperial ambitions.