Ruling Party MP Initiates Changes to Promote Healthy Lifestyle
By Levan Khutsishvili
Thursday, July 19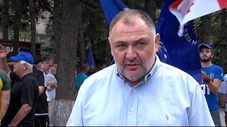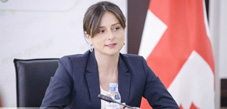 On July 18, Sector Economy and Economic Policy Committee of Parliament discussed initiative for amendment in the Law of Georgia on Spatial Development and Basis for City-Building. Amendment was initiated by Bidzina Gegidze Chairman of Faction "Georgian Dream for Powerful Georgia".
The initiated amendment establishes the concept of sport facilities, their arrangement, preservation and development. It also attempts to change the approach to sports and recreation areas and facilities.
The amendment indicates that sport-rehabilitation and recreational areas are populated or unpopulated territories with the main potential of development of sport, tourism and recreation. Including interconnected natural and cultural complexes as well as sports, tourism and resort infrastructure facilities that can be used for people's relaxation purposes. Among the areas are green areas when not less than 80 percent of the territory is covered with woods, outdoor playgrounds, trails, or pedestrians, and where there is a possibility for leisure / entertainment area (park, garden, boulevard, square, lawn). The territory should be more than 50 m2.
Tbilisi City Hall is categorically against the new amendment.
"Under the current legislation 80% of recreational areas are not permitted to construct any type of construction. According to the proposed project, construction of sports facilities is allowed on recreational areas, which means that it may be possible to arrange a swimming pool or stadium in Digomi forest park, Lagodekhi Reserve or Vake Park, and City Hall considers it unacceptable. Our offer is that the recreational territories remain intact, with its gardens and squares, and introduce a new definition: a sports-recreational-rehabilitation area that may include a green area, the main purpose of which is a sport-recreational -rehabilitation and where will be possible arrangement of stadium or other sports infrastructure. It is categorically unacceptable for us that sports-recreational-rehabilitation areas completely absorb the rest of the recreational areas containing landscape-recreation area, forest zone, park, square, etc. Bidzina Gegidze thinks that we can accept the arrangement of a sports ground, sports facility, including a chess facility in any kind of garden, square, landscape recreation zone and it does not interfere with the ecosystem. It is categorically unacceptable for the City Hall because the recreational territories should be absolutely protected from any type of construction, "- said Maia Bitadze, Deputy Mayor of Tbilisi, after the committee's meeting.
The purpose of the legislative amendments is to bring recreational territories and sport-recreational areas and facilities into one legal mode and promote its development in common space. According to the new Land Use General Plan of Tbilisi, some recreation territories are marked, and its development will start soon. If the parliament accepts the draft law, the government will regulate rules for the use and development of sports-recreation areas and special construction regulation zones. There remains a possibility that decisions of government will come in conflict with the vision of development of Tbilisi suggested by the Land Use General Plan of Tbilisi.