Miners' Fight for their Rights
By Levan Khutsishvili
Thursday, July 26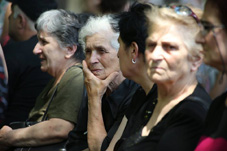 On July 25, 2018, Georgian Trade Unions Confederation and stated they disagree with the requirement of the group of miners to appoint a candidate nominated by the miners on the position of the mine managers.
Miners read their statements on July 24, during the demonstration in Tkibuli, which was joined by the Trade Unions Confederation, Youth Movement of Trade Unions and representatives of various sector trade unions.
Miners are demanding:
1. Objective investigation of a group incident that occurred on April 5 and July 16 and punishment of persons responsible for it.
2. Temporary conservation of mines with the purpose of assessing the existing risks and complete modernization of the facility
3. Ensuring the full compensation for employees throughout the period of conservation.
4. A meeting with the prime minister, with the participation of trade unions, company administration and government representatives, as well as miners.
5. Creation of the Agreement signed by the Parties mentioned above.
There was an additional demand from the group of miners, to appoint their candidates on the position of mine managers; however, Georgian Trade Unions Confederation does not agree with their requirement.
"One person cannot solve the problem of miners and ensure labor safety. We are dealing with a systemic problem that one particular person / manager cannot solve in a short time," – is said in the statement of trade unions.
According to the Trade Unions Confederation of Georgia, in 2018, 29 workers died and 24 workers were seriously injured at workplace as a result of industrial traumas. Among them 11 person died and 10 person was seriously injured in mines, 3 persons were killed and 2 persons were seriously injured in quarries.
After the tragedy on July 16, when 4 miners died in Mindeli Mine, miners' demands became radical and government and "Saknakhshiri" were forced to close the mine and start investigation and at the same time satisfy demands of the miners. It means that company "Saknakhshiri" will reimburse miners the indefinite hours by 100%.
Georgian Trade Unions Confederation does not agree "Sakhnakhshiri"; however, they took another demand of miners into consideration and presumably their representative Eldar Chapidze will be appointed as Deputy General Director.