Emergency Management Agency on Deaths in Water
By Levan Khutsishvili
Thursday, August 9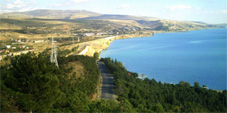 On August 8, Interpressnews published statistics based on the information of Emergency Management Agency, reporting that in 2018, in the period from June 1 to August 1, 39 people died in rivers, seas, and lakes throughout Georgia, at the same time rescuers saved 192 people.
According to them, in summer 20 people died in rivers, 11 in the lakes and 8 in the sea. As for the survivors, rescuers saved 11 people in rivers, 36- in the lakes and 145- in the sea.
Emergency Management Agency says that rescuers are monitoring swimming zones for 24 hours, their security and prohibition signs are installed all over the territory. According to them, the rescuers are not watching the areas that are not considered to be swimming zones, and unfortunately, most of the accidents occur precisely there.
"Rescuers are periodically monitoring such territories, for instance, on the Tbilisi Sea rescuers are patrolling by naval technique and often encountering facts that citizens are swimming in places where swimming is prohibited and is dangerous. The rescuers warn them that they are not allowed to swim there, but that does not mean that people do not swim there. Although the rescuers cannot monitor such places for 24 hours, as their attention is drawn to the swimming zones where there are many people," – said the press office of the Emergency Management Agency.
The reasons for this can be analyzed in different directions. First of all, there is a problem on the legislative level; Non-governmental organizations have been trying for years to speak with the Ministry of Internal Affairs to create and implement the policy that would address the problem. There are several dangerous zones that people have free access to, as there are no warning signs and protective infrastructure, also, there is no law that will strengthen the water safety rules in hazardous areas.
Aleko Tsktishvili, Director of Human Rights Center, together with parents whose children died in non-swimming zones and representatives of NGO's on August 2, 2018, organized rally in Tbilisi Sea territory. They demanded to strengthen security measures and changes on the legislative level.
The second reason is the absence of a defense system.
"There is a need for a well-established system that provides information not only to the relevant agency but also providing this information to people who are in a dangerous situation. There will be no results if the ministry knows that the rapid growth of water is expected, but does not design the system to react quickly and warn people to get out from the water before water will reach the place and threaten their lives," - said Rezo Getiashvili, representative of CENN.
However the system needs to be updated, some preventive steps are already taken, for example, 140 rescuers have been added to the Black Sea coast and Tbilisi Sea territory. There are 200 rescuers on the Black Sea coast and up to 100 rescuers at the Tbilisi Sea. Besides, Tbilisi City Hall is planning to install warning signs and protection fences all around the dangerous zones.